| | | |
| --- | --- | --- |
| EDITION 39 | | | 3:32 read time |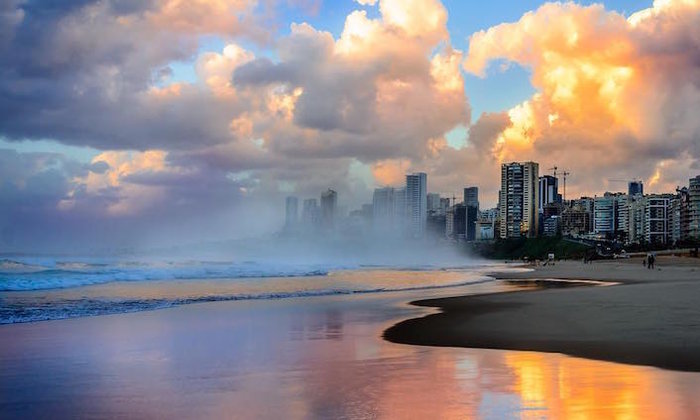 Beirut, Lebanon | @jamjammal
Where else in the world can you hike a breathtaking mountain trail in the morning, and be sprawled on the beach in the afternoon? Add a rich history and a dash of style into the mix and there's only one place that fits the bill: Beirut. Like its mother country, Beirut is small and easy to explore. But rushing through this charismatic city would be an insult to each of its striking discoveries.
Beirut, Lebanon
N 33.89° / E 35.50°

Repeat After Me
Bay-Root (or, for the millenniels, 'Bae-Root' )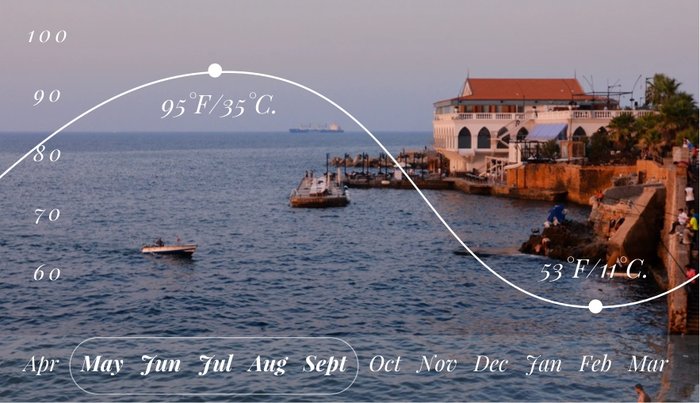 @queenninagrey
May-September
Summer can get hot and humid, but that means it's the perfect time to visit one of Beirut's stunning beaches. Hiking trails open up in the late spring and you'll find plenty to do when the sun goes down. Winter tends to be a bit rainy, but skiers might have the chance to catch some great snow up in the mountains.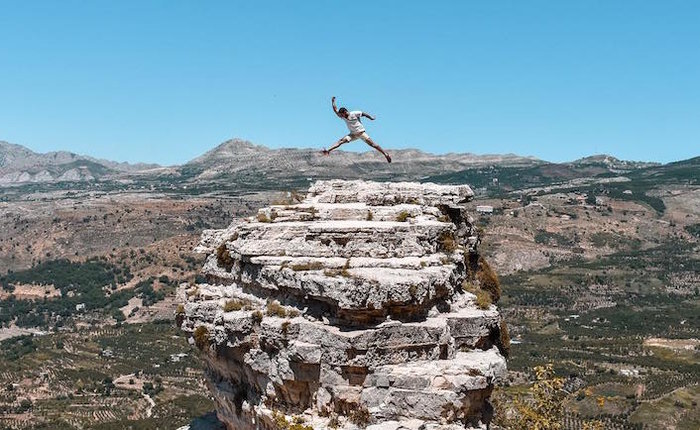 Akoura, Mont-Liban, Lebanon | @jubranelias
Get Out(doors)
Lebanon is small but mighty, and as the only Middle Eastern country without a desert, it offers some gorgeous opportunities to get outdoors. About an hour north you'll find the Jabal Moussa Biosphere Reserve. This UNESCO site is rich in biodiversity, featuring small historic villages, breathtaking hiking trails, and plants you can't find anywhere else in the world. Another spectacular excursion you can't miss is heading out to the mountains near Akoura, where yield gorgeous views of meadows, apple tree orchards, and lakes are abundant.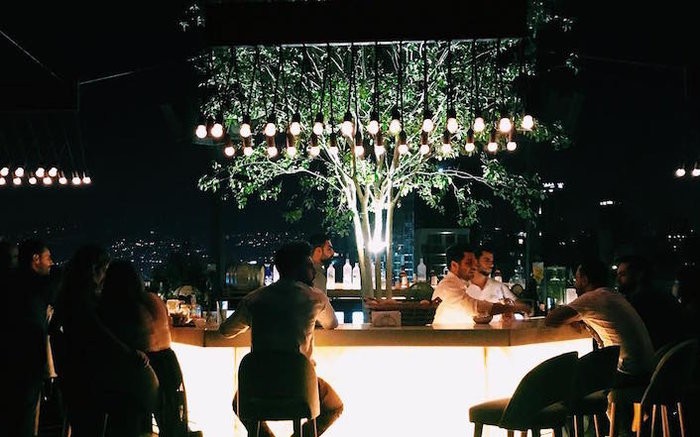 Iris Beirut | @travelavecstyle
Meet Me in the Club, It's Going Down
Tired after a long day of exploring? Too bad, the party's just getting started. Beirut's nightlife is huge, from flashy beach nightclubs to the Brooklyn-esque bars of Mar Mikhael Street and Gemmayze. For a vibrant rooftop scene check out Skybar and Iris, or dance the night away at the Grand Factory.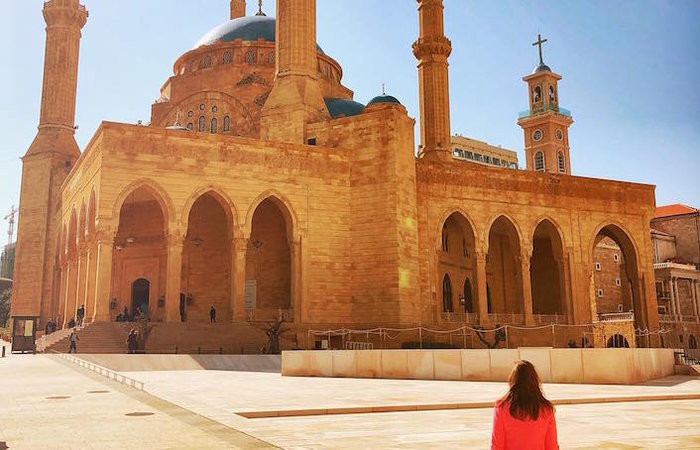 Mohammad Al Amin Mosque | @wanderlusterprincess
Mona Lisa Smile
In Beirut, one minute you could be contemplating ancient Phoenician statues and the next you could be admiring a striking painting in a modern gallery. With a blend of classic museums, like the Beirut National Museum, and contemporary galleries, like Marfa' and ARTLAB, there's a lot of art to appreciate. After admiring the preserved art, add in the historical buildings that are just as carefully crafted - like Mohammad Al-Amin Mosque and the Ottoman ruins.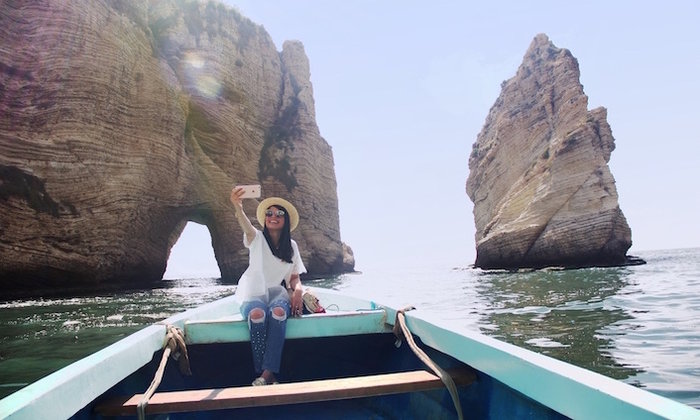 #raouche | @socialbouquet
Got My Swim Trunks, and My Flippy-Floppys
As Discoverer Varoin says, "Carry your swim gear everywhere!" Lay a towel out at one of Beirut's sunny beaches, or sip a cool drink by a pool bar. Our favorite water activity is taking a boat tour around Raouche and cruising past the famous Pigeon Rocks. If it's too cold to truly enjoy the waves, a nice seaside stroll along the Corniche should offer the same salt air and view.
Paul's Discovery
@pawljebara
"Maybe this is cheating, but Lebanon is a tiny nation (smaller than Connecticut) and it's so densely filled with treasures that are little-known to tourists. Despite my annual visits, I discover something new every time. Since it's centrally located on the Mediterranean coast, I use Beirut as a base for day trips to other parts of Lebanon, which are mostly accessible in less than 2 hours by car. And because of this, I often decide the morning-of whether to head to the beach for sun and seafood, or up to the mountains for a hike in the fresh, alpine air among majestic cedar trees."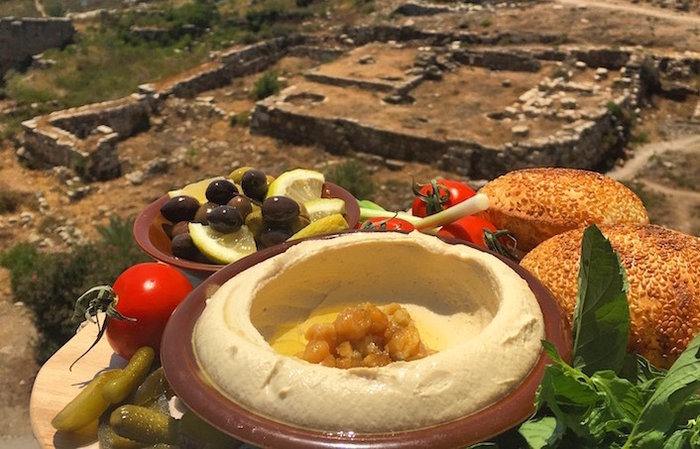 @manal.massoud
More Hummus, Please
The local cuisine in Beirut is unbeatable, from classics like hummus and falafel to hearty lamb chops and fresh seafood. But Beirut is a food lover's paradise, with plenty of stellar international options. Whether you feel like trying the traditional fare at a place like Loris, or want to indulge in some Italian pasta at The Gathering, you'll never go hungry.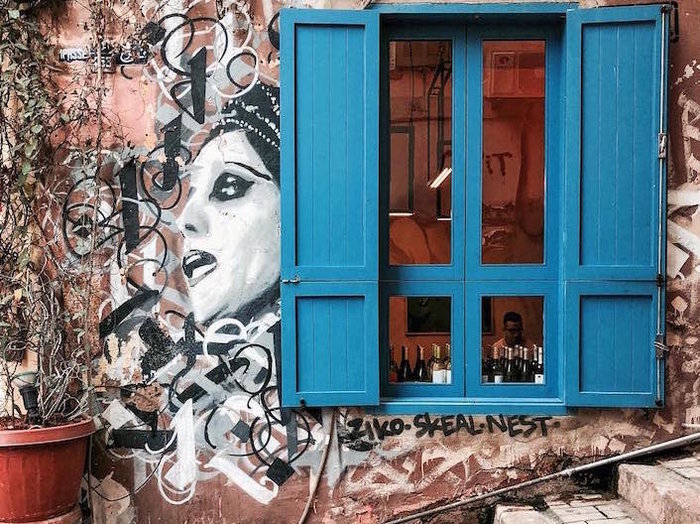 #livelovebeirut | @karliseverywhere
Travel Warning
A few countries (including the USA and UK) have issued travel warnings advising tourists to avoid Beirut's southern suburbs. Lebanon has seen a massive influx of refugees from Syria in the past few years, and with the war just across the border, travelers should be vigilant and smart.
Ask Around
Ask random youngsters on the street for help, usually they are helpful and most probably speak English. Electricity also cuts off frequently so don't be alarmed. In a few seconds it will come back again. - @shadiayoub
Hire a Driver
Hire a driver from a reliable fixer or family member, there are a few road stops with military guards/Lebanese army and you would do well to have the locals do the speaking for you. It can get confusing and potentially uncomfortable quickly. - @belikethefox